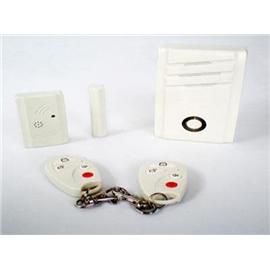 3 Zone Wirelss AC Simple Alarm System
2015-07-31
Model: BJQ-001E
Price: $39.69
Standard package: AC (110V/220V) wireless independent siren(1); Wireless door sensor(1); Remote controller(2);
Package size: 23.0cm * 16.5cm * 7.8cm
Weight: 0.8KG
Product introduction
Function:
BJQ-001E is a 3 zones wireless alarm system, simple and reliable. The wireless distance can reach 100 meters at open space. Control machine of this system is an AC operated independent siren, plug and use, is a good security system for family or small business.
User also can add door pad, door sensors, infrared sensors to increase monitoring area of the filed. After the system is been armed, all sensors will monitor the filed, the independent siren will siren loud when one of the sensor is been initiated.
lWireless design, AC 110V/220V operated independent siren, plug in and use.
l3 wireless zones, external zone, internal zone and 24 hour zone.
lEntry delay 20 seconds, beep time counting down.
lEmergency key function
lVoice confirmation of arm/disarm
l After add door pad, there is door bell function
| | | | | |
| --- | --- | --- | --- | --- |
| Model | Picture | Standard package | Price | Add to Cart |
| BJQ-001E | | AC (110V/220V) wireless independent siren(1); Wireless door sensor(1); Remote controller(2); | $39.69 | |