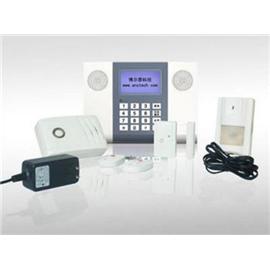 Intelligent alarm System
2015-07-31
Model: BJQ-001F
Price: $199.57
Standard package: controller(1); universal mount(1); power supply(1); remote controls(2); infrared sensor(1); door sensor(1); independent siren(1); back up general battery(1);
Package size: 8.0cm * 29.0cm * 40cm Weight: 1.4KG

Click here

to download installation video.
Product introduction
Function:
● Wireless design for easy system installation
● Up to 30 internal wireless zones;Up to 20 external zones;Up to 10 24-hour zones;Up to 10 remote controllers;Up to 2 wireless door bells;Up to 2 wireless password keypads.
● All accessories can establish wireless communication channel with control machine by wireless address learning and record; it is very convenient for the user to add extra accessories.
● Remote control through telephone line with voice instruction, very easy to operate. Can execute remote arm/disarm, field monitoring (listen) or duplex (talk/listen) function.
● AC (110V/220V) wireless independent siren. One siren is built inside the controller. User can choose to add unlimited extra independent wireless sirens, and make the controller machine silent during an alarm event.
● Internal AA Ni-MH battery (5 batteries), with a dedicated charger, which manages charging and discharging of the batteries to extend battery life. When the AC power is off, the system automatically shifts to the battery backup supply, which will last about 24 hours.
● When batteries of the control machine and sensors are low, there is a battery low warning dial out to the user with voice reminder when the system is armed, otherwise control machine will have a voice reminder of "Battery is Low". Battery snaps in, is easy to change by the user.
● Powerful programmable functions, with dot matrix display characters and voice reminder, make program functions fun and easy.
● Emergency key. No matter if the system is armed or not, push emergency key will start an alarm event.
● The anti-tampering function. If cover and base of the controller or the cover of battery chamber is opened, the system will begin an alarm event.
● lPriority line function. If there is a call coming when the system begins an alarm event, or the phone is not on hook, the system will obtain the phone line priority to call out first.
● The control machine can issue wireless control signal to control independent sirens, lights and camera so on.
● Alarm mode choice, single user or connect to a control center. For single user, user can set up to four telephone numbers, system will dial out one by one until get through or up to maximum two cycles. For CTR, using Contact ID standard.
● Event record function. This system records 10 most recent arm/disarm sets and 10 most recent alarm events, data is convenient to check. Data will never be lost.
● Electronic calendar / clock function
● User programmable timing for auto arm/disarm functions.
● 20 seconds of recording time, for the user's voice to announce an intrusion event when the alarm dials out.
| | | | | |
| --- | --- | --- | --- | --- |
| Model | Picture | Standard package | Price | Add to Cart |
| BJQ-001F | | controller(1); universal mount(1); power supply(1); remote controls(2); infrared sensor(1); door sensor(1); independent siren(1); back up general battery(1); | $199.57 | |