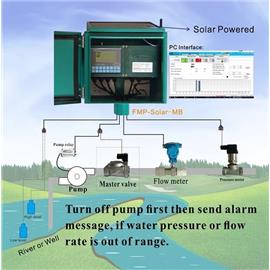 Wireless Flow meter controller/Relay
2015-08-04
Model: FMP-Solar Series
Recommended Application: For control pump and flow meter.
Package Weight: 7KG
Model
Picture
Standard package
Price
Add to Cart
FMP-Solar

Controller (1)

1/4" pressure meter(1)

$433.48


FMP-Solar-MB

Controller (1)

1/4" pressure meter(1)


$541.68


Product introduction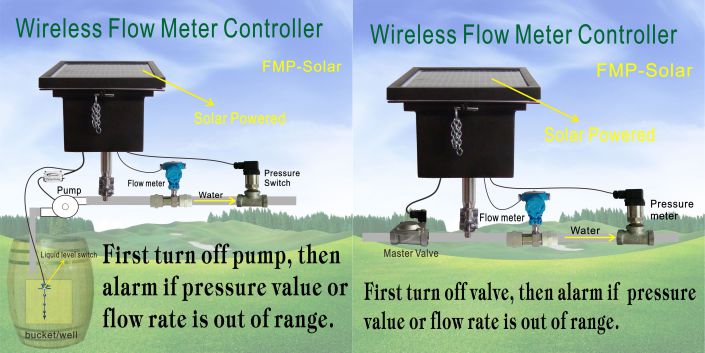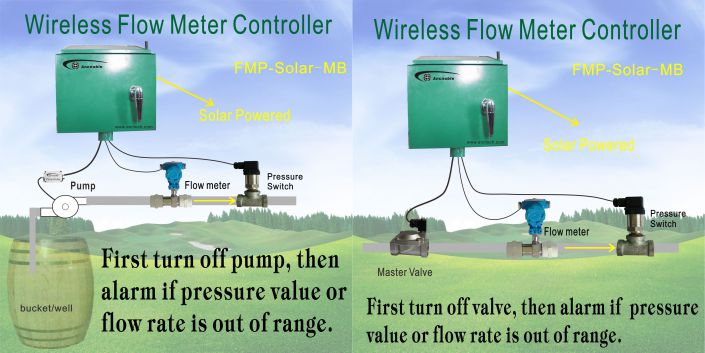 Description:
Wireless flow meter field Controller/Relay. Control up to 1 flowmeter(1"~4" ),1 master valve or pump,1 pressure sensor . Solar powered.
Application forGG-002C
Good Features: Will alarm and turn off pump/master valve when pressure value or flow rate out of range.
Function:
1,ASA weather proof shell design, water proof, for outdoor application
2,Solar powered, wireless, no need of power or communication lines in the field.
3,Solar panel is fixed on the shell. Can add extra solar panel for area without enough sun.
4,With relay function.
5,Control:pump and master valve, Monitoring flow rate, flow total, water pressure, and water level of well or water tank.
6,Field manual open/close pump and master valve for convenience.
7,Setup flow rate and water pressure range to control protective shut down of pump and master valve.
8,Using water level checking function to control protective shut down of pump, to avoid pumping without right water level.
Specification:
Solar Panel: 17.4V DC /220mA/3.8W (Support Extra panel)
Back battery: 10*1.2V/ 2.3AH AA NiMH
Solar charging time: About 10 hours under standard sunlight
Idle power:1mA
Lasting time under fully charged battery: 7 days
Wireless frequency:902MHz-928MHz
Receiving distance: Open space ≧500米,can relay forward.
Application environment:Temperature:-30~60℃ Relative humidity:<90%
Flow meter specification:
1,Voltage:12VDC
2,Type:Turbine(3 wires system)
3,Signal:Pulse
Pressure meter specification:
1,Voltage:12VDC
2,Range:0-1Mpa
3,Signal output:Current4-20mA
Valve specification:
1,Voltage:6-12VDC Pulse
2, Latching valve
Pump control output:Open-(12VDC) Close-(0VDC)
Controller box size:Long:700px Wide:437.5px High:705px
Controller box protective grade: IP56
Application: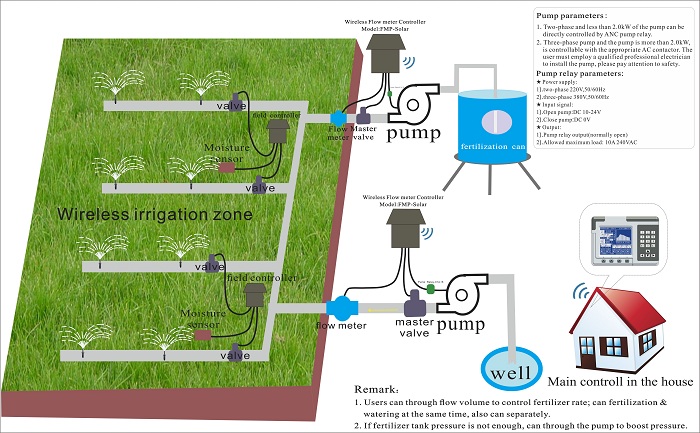 Accessories:
P/N
Picture
Description
Price

Mvalve-01

【1" Plastic DC latching valve】

Working voltage:2.4~6V;

Working current:1A;

Working pressure: 0.069~1.05Mpa, 50 ~ 100ms pulse;

Flow range: 0.23m3/h-1.89m3/h;

Vavle body:Plastic;

Connector size:1" NPT thread;

$15.43

Mvalve-09

【1" plastic DC latching valveHunter】
Working voltage:2.4~6V,
Working current:1A
Working pressure:0.14-1.5Mpa, 50 ~ 100ms pulse


Flow range:: 0.06~68.1m3/h


Vavle body:Plastic


Connector size:1" NPT thread

$50.11

Mvalve-10

【1.5" plastic DC latching valveHunter】
Working voltage:2.4~6V,
Working current:1A
Working pressure:0.14-1.5Mpa, 50 ~ 100ms pulse


Flow range:: 0.06~68.1m3/h


Vavle body:Plastic,Medium:water,


Connector size:1.5"NPT thread




$113.79

Mvalve-11

【2" plastic DC latching valveHunter】
Working voltage:2.4~6V,
Working current:1A
Working pressure:0.14-1.5Mpa, 50 ~ 100ms pulse


Flow range:: 0.06~68.1m3/h


Vavle body:Plastic,


Connector size:2" NPT thread




$149.79

Mvalve-12

【3" plastic DC latching valveHunter】
Working voltage:2.4~6V,
Working current:1A
Working pressure:0.14-1.5Mpa, 50 ~ 100ms pulse


Flow range:: 0.06~68.1m3/h


Vavle body:Plastic,


Connector size:3" NPT thread




$425.50

GG-SLC-PC-05

【Level Switch】




$29.23

Vcabel-3.7m

【Valve cable】Extention cable with connectors for magnetic valve, total 3.7meters (Cable:TC0.15*28S/1.6PVC*2core/OD:5.0PVC)

$2.77

VcabelB-5m

【Valve cable】Extention cable with connectors for magnetic valve, total 5 meters (Cable:TC0.15*28S/1.6PVC*2core/OD:5.0PVC)

$3.69

VcabelB-10m

【Valve cable】Extention cable with connectors for magnetic valve, total 10 meters (Cable:TC0.15*28S/1.6PVC*2core/OD:5.0PVC)

$6.44

VcabelB-20m

【Valve cable】Extention cable with connectors for magnetic valve, total 20 meters (Cable:TC0.15*28S/1.6PVC*2core/OD:5.0PVC)

$11.95

VcabelB-30m

【Valve cable】Extention cable with connectors for magnetic valve, total 30 meters (Cable:TC0.15*28S/1.6PVC*2core/OD:5.0PVC)

$17.64

GG-FM-LWGY1"

【 1"NPT flow meter】 DN25

$222.66

GG-FM-LWGY2"

【 2" flanges flow meter】DN50

$317.93

GG-FM-LWGY3"

【 3" flanges flow meter】 DN80

$476.70

GG-FM-LWGY4"

【 4" flanges flow meter】 DN100

$583.37

Pump Relay-01A

【Pump relay 380V】

$48.87

Pump Relay-01B

【Pump relay 220V】

$48.87

GG-PM-WY-50 1/8"

【 pressure meter】 1/8" NPT thread Range:0~1Mpa Output:4..20MA Accuracy grade:0.2% FS Scope of supply:12/36 VDC

$95.39

GG-PM-WY-50 1/4"

【 pressure meter】 1/4" NPT thread Range:0~1Mpa Output:4..20MA Accuracy grade:0.2% FS Scope of supply:12/36 VDC

$95.39

Antenna-04

【Antenna-915MHZ】1.Frequece range:915MHz2.frequnce bandwidth: 100MHz3.input impedance: 50Ω4.Voltage standing wave ratio: ≤1.55.gain: 2.5dBi6.Power capacity: 50W

$1.78

Ccable

【Coaxial cable】Coaxial cable 3meters plus two connectors (Cable:RG316,3.0mm FEP,7*0.17mm, -55~+200℃)

$4.97