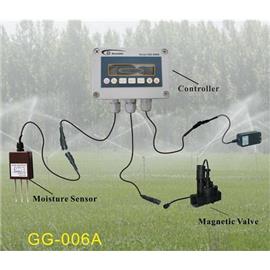 Ancnoble GG-006A Moisture controlled Auto Irrigation Controller
2015-08-04
Model: GG-006A
Recommended Application: Suitable for vertical landscape, indoor landscape, roof garden, green house or other landscape which has AC power but not much sun.
Package Weight:2KG
Product introduction
Picture
Standard package
Add to Cart

GG-006A

Moisture sensor(1);

Controller(1);

1" Plastic latching valve(1);

AC adapter(1)

Price: $166.21

With Valve Type: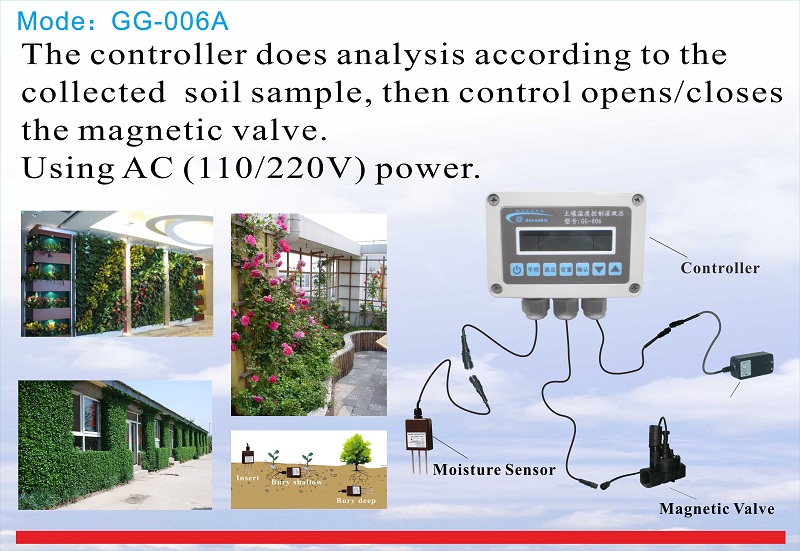 Description:
The moisture sensor periodically collects soil moisture samples, sends to solar controller. The solar controller does analysis
according to
the collected data, then control opens/closes the magnetic valve.
<!?xml:namespace prefix="o"><!?xml:namespace>
User set up the Dry/Wet control levels, then the controller will accurately keep the moisture in the set up range.
Using AC
This system is for your backyard organic vegetables, fruit trees, green lawn and vertical landscape. Optimize
irrigation, save
water, trouble
free and protect the environment!
Can install with any existing or new, drip or sprinkler irrigation system, using the existing AC valve.
l

User sets up/adjusts wet/dry control levels.
l

Current moisture % display on the LCD screen as reference.
l

LCD display for the set up dry/wet control moisture levels.
l

User sets up/adjusts forbidden irrigation time.
l

Manual open/close valve for convenience.
l

Applies to any kind of soil and plant.
lMoisture sensor could be plug or burried deep into soil.
Remark:
1.Suggested maximum moisture sensor extention cable is 50 meters except moisture sensor for GG-005 series.
2.Suggested maximum maganetic valve extention cable is 20 meters.
Customer can choose ship from California (USA)
We will send the cargo by UPS, DHL.
More information, please contact us by email, sales@anctech.com
How to bury moisture sensor: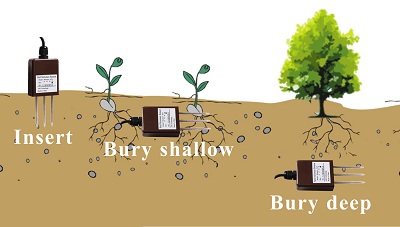 Application: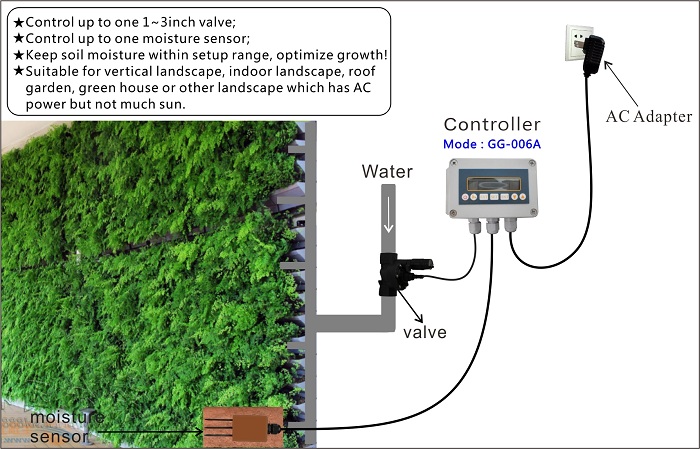 Accessories:
P/N
Picture
Description
Price

Mvalve-01

【1" Plastic DC latching valve】

Working voltage:2.4~6V;

Working current:1A;

Working pressure: 0.069~1.05Mpa, 50 ~ 100ms pulse;

Flow range: 0.23m3/h-1.89m3/h;

Vavle body:Plastic;

Connector size:1" NPT thread;

$15.43

Mvalve-09

【1" plastic DC latching valveHunter】
Working voltage:2.4~6V,
Working current:1A
Working pressure:0.14-1.5Mpa, 50 ~ 100ms pulse


Flow range:: 0.06~68.1m3/h


Vavle body:Plastic


Connector size:1" NPT thread

$50.11

Mvalve-10

【1.5" plastic DC latching valveHunter】
Working voltage:2.4~6V,
Working current:1A
Working pressure:0.14-1.5Mpa, 50 ~ 100ms pulse


Flow range:: 0.06~68.1m3/h


Vavle body:Plastic,Medium:water,


Connector size:1.5"NPT thread




$113.79

Mvalve-11

【2" plastic DC latching valveHunter】
Working voltage:2.4~6V,
Working current:1A
Working pressure:0.14-1.5Mpa, 50 ~ 100ms pulse


Flow range:: 0.06~68.1m3/h


Vavle body:Plastic,


Connector size:2" NPT thread




$149.79

Mvalve-12

【3" plastic DC latching valveHunter】
Working voltage:2.4~6V,
Working current:1A
Working pressure:0.14-1.5Mpa, 50 ~ 100ms pulse


Flow range:: 0.06~68.1m3/h


Vavle body:Plastic,


Connector size:3" NPT thread




$425.50

Adapter-02

【AC Adapter 】

100V-240V/12V 2A cable long 1.5m

$5.34

Msensor-02

【Moisture sensor】




$98.00

Vcabel-3.7m

【Valve cable】Extention cable with connectors for magnetic valve, total 3.7meters (Cable:TC0.15*28S/1.6PVC*2core/OD:5.0PVC)

$2.77

VcabelB-5m

【Valve cable】Extention cable with connectors for magnetic valve, total 5 meters (Cable:TC0.15*28S/1.6PVC*2core/OD:5.0PVC)

$3.69

VcabelB-10m

【Valve cable】Extention cable with connectors for magnetic valve, total 10 meters (Cable:TC0.15*28S/1.6PVC*2core/OD:5.0PVC)

$6.44

VcabelB-20m

【Valve cable】Extention cable with connectors for magnetic valve, total 20 meters (Cable:TC0.15*28S/1.6PVC*2core/OD:5.0PVC)

$11.95

VcabelB-30m

【Valve cable】Extention cable with connectors for magnetic valve, total 30 meters (Cable:TC0.15*28S/1.6PVC*2core/OD:5.0PVC)

$17.64

Scable-1-5m

【Sensor cable】Extention cable with connectors for moisture sensor,5 meters (Cable:TC0.15*28S/1.6PVC*3core/OD:5.0PVC)

$4.07

Scable-1-10m

【

Sensor cable

】

Extention cable with connectors for moisture sensor,10 meters (Cable:TC0.15*28S/1.6PVC*3core/OD:5.0PVC)

$7.21

Scable-1-20m

【

Sensor cable

】

Extention cable with connectors for moisture sensor,20 meters (Cable:TC0.15*28S/1.6PVC*3core/OD:5.0PVC)

$13.59

Scable-1-30m

【

Sensor cable

】

Extention cable with connectors for moisture sensor,30 meters (Cable:TC0.15*28S/1.6PVC*3core/OD:5.0PVC)

$19.92

Scable-1-50m

【

Sensor cable

】

Extention cable with connectors for moisture sensor,50 meters (Cable:TC0.15*28S/1.6PVC*3core/OD:5.0PVC)

$32.33