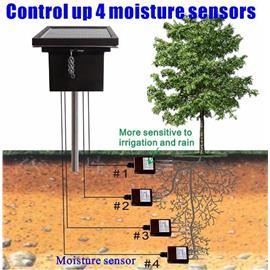 Wireless multi moisture sensors controller
2015-09-15
Model: 4MS-Solar
Recommended Application: For measuring moisture at different depth, suitable for crops, or for average moisture level from different moisture sensor.Match with GG-002C/GG-002D main controller
Package Weight: 4KG
Control up to 4 moisture sensors. For measuring moisture at different depth, for the application of deep root crops,
or for average moisture level from different moisture sensor. Solar powered only, using standard 10*2300mAh
AA size Ni-MH Battery, the battery is not included.
Model

Picture

Description

4MS-Solar

Control up to: 4 moisture sensors

Solar powered.Using standard 10*2300mAh AA Size Ni-MH Battery (Not included)
Product features:
1.Controller is solar powered.
2. Only need one key push to setup Dry/Wet control threshold. Very easy to use.
3. This controller also function as relay. The built in bidirectional wireless distance can reach 2000m/4000m through mesh network.
4. The moisture sensors can bury at different depth for different application.
5. If there is not enough solar power, the controller will turn self-off, recharging , and wake up automatically after recharged.
6. Field controllers in the range will automatically setup mesh network route to communicate with main controller.
7. This controller can work for almost one month under rain/cloudy days.
Specifications:
Solar panel: 17.4V DC /220mA/3.8W
Back-up battery: 10*1.2V/ 2.3AH AA Size
Quiescent current:1mA
Frequency: 902-928 MHZ
Communication distance at open space: 1600ft
Working environment: Temperature[-20~60℃]; Humidity [<90%] <>
Lasting time of fully charged battery: 7 days without sun.
Battery charging time: 10 hours in standard illumination
Moisture sensor:
1. Output: Digital data
2. Moisture Range: 0-99%
3. Resolution: 1%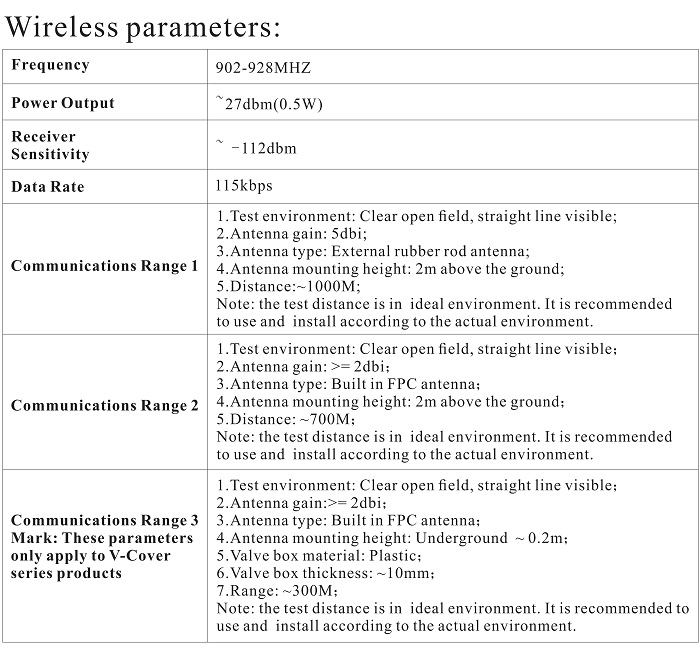 Application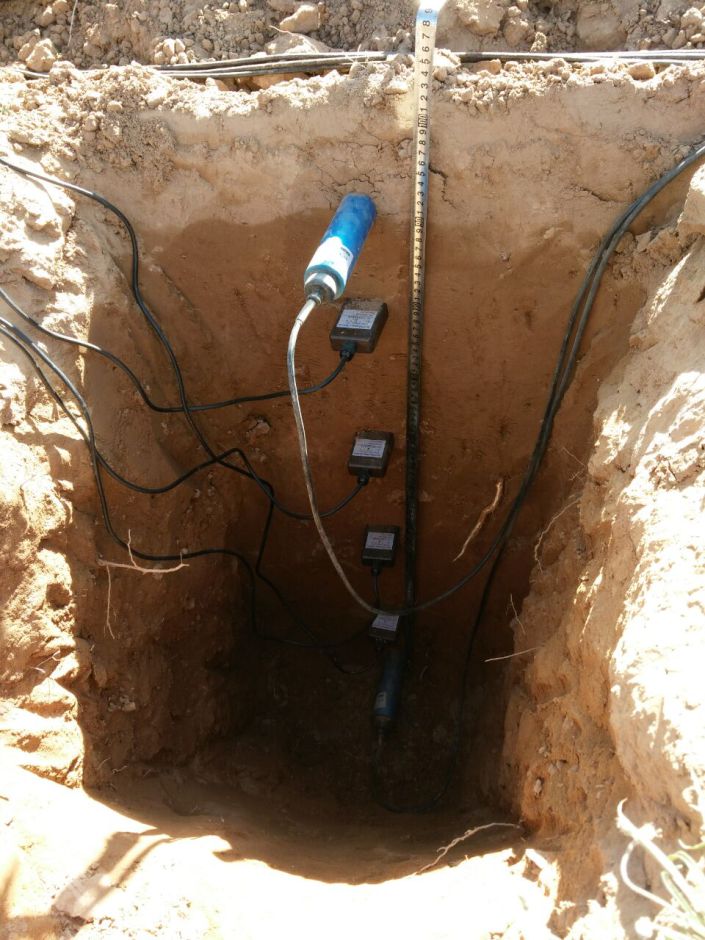 Remark:
Suggested maximum moisture sensor extention cable is 50 meters except moisture sensor for GG-005 series.
Accessories:
P/N

Picture

Description

Price

Msensor-02

【Moisture sensor】




$98.00

Scable-1-5m

Extention cable with connectors for moisture sensor,5 meters

Cable: 3core

$4.07

Scable-1-10m

Extention cable with connectors for moisture sensor,10 meters

Cable: 3core

$7.21

Scable-1-20m

Extention cable with connectors for moisture sensor,20 meters

Cable: 3core

$13.59

Scable-1-30m

Extention cable with connectors for moisture sensor,30 meters

Cable: 3core

$19.92

Scable-1-50m

Extention cable with connectors for moisture sensor,50 meters

Cable: 3core

$32.33

Antenna-04

【Antenna-915MHZ】

Frequece range:915MHz

Frequnce bandwidth: 100MHz

Voltage standing wave ratio: ≤1.55

Gain: 2.5dBi

$4.47

Battery-03

NiMH Rechargeable battery 12V/2300mAh

$24.4

Ccable

Coaxial cable

1.5 meters with two connectors

$4.18