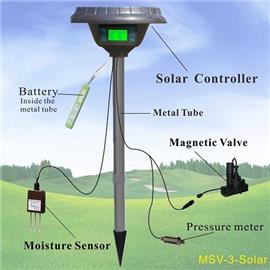 One moisture sensor one valve wireless field controller
2017-05-24
Model: MSV-3-Solar
Recommended Application: Suitable for dwarf plant farmland, greenhouses, home gardens and roof garden
Package Weight: 3KG
Production introduction:
Model
Picture
Standard package
Description

MSV-3-

Solar

Solar controller(1);


Moisture sensor(1);

1" Plastic latching valve(1);

7.2V/2300mAh(1);

Wireless Field Controller/Relay.Control up to 1 latching valve(1"~3"), 1 moisture sensor and 1 pressure swtich/meter. Using 7.2V/2300mAh Ni-MH Battery (Included). Solar powered; Connects controller to one outdoor AC Valve Relay Box, then controls 24V AC valves.
Function:

Product introduction
Can control up to one moisture sensor, one pressure meter/switch, one 1" to 3" latching valve.

Solar powered only, use 7.2V/2300mAh Ni-MH battery, battery included.
Connects controller to one outdoor AC Valve Relay Box, then controls 24V AC valves.
Product features:
1.Controller is solar powered.
2. Only need one key push to setup Dry/Wet control threshold. Very easy to use.
3. Hasmanual key to manually open/close valves for the convenience of field operation and maintain.
4. With pressure meter/switch installed to check valve open/close abnormal, alarm to main controller if there is failure.
5. This controller also function as relay. The built in bidirectional wireless distance can reach 2000m through mesh network.
6. The moisture sensor can bury deep in the soil.
7. If there is not enough solar power, the controller will turn off valve first, then turn self off, recharging , and wake up automatically after recharged.
8.Field controllers in the range will automatically setup mesh network route to communicate with main controller.
9. This controller can work for almost one month under rain/cloudy days.
Application for GG-002C series.
Specifications:
NiMH Battery pack: 7.2V/2300mAh
Solar cell V: 9.2V/120mA
Quiescent current: <150uA
Latching magnetic valve specifications: Pulse V 4-7 VDC, Width of pulse 20 – 100mS
Receive frequency :902MHz-928MHz
Transmission frequency : Visual range >=500m
Recharge time: Low batteries may cause a new system to not turn on. Place the solar powered controller under sun for 10 hours to recharge the batteries, and then turn power on.

Remark:
Suggested maximum maganetic valve extention cable is 20 meters.
Suggested maximum moisture sensor extention cable is 50 meters except moisture sensor for GG-005 series.
Suggested maximum pressure meter extention cable is 50 meters.
Application: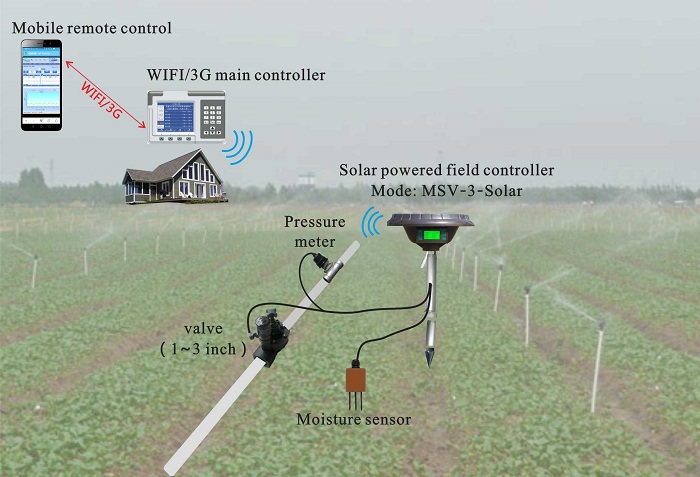 Accessories:
P/N
Picture
Description
Price

Mvalve-01

【1" Plastic DC latching valve】

Working voltage:2.4~6V;

Working current:1A;

Working pressure: 0.069~1.05Mpa, 50 ~ 100ms pulse;

Flow range: 0.23m3/h-1.89m3/h;

Vavle body:Plastic;

Connector size:1" G thread;

$15.43

Mvalve-02

【 1" Stainless steel DC latching valve】

Working voltage:6V;

Working current:1A;

Working pressure:0.03~1Mpa, 50 ~ 100ms pulse;

Flow range: 0.23m3/h-6.8m3/h;

Vavle body:Stainless steel;

Connector size:1" NPT thread;

$49.88

Mvalve-03

【1.5"Stainless steel DC latching valve】

Working voltage:6V;

Working current:1A;

Working pressure:0.03~1Mpa, 50 ~ 100ms pulse;

Flow range:0.04m3/h-27.2m3/h;

Vavle body:Stainless steel,

Connector size:1" NPT thread;

$151.69

Mvalve-04

【2" Stainless steel DC latching valve】

Working voltage:6V;

Working current:1A;

Working pressure:0.03~1Mpa, 50 ~ 100ms pulse;

Flow range: 0.04m3/h-27.2m3/h;

Vavle body:Stainless steel;

Connector size:2" NPT thread

$160.77

Mvalve-09

【1" plastic DC latching valveHunter】
Working voltage:2.4~6V,
Working current:1A
Working pressure:0.14-1.5Mpa, 50 ~ 100ms pulse


Flow range:: 0.06~68.1m3/h


Vavle body:Plastic


Connector size:1" NPT thread

$50.11

Mvalve-10

【1.5" plastic DC latching valveHunter】
Working voltage:2.4~6V,
Working current:1A
Working pressure:0.14-1.5Mpa, 50 ~ 100ms pulse


Flow range:: 0.06~68.1m3/h


Vavle body:Plastic,Medium:water,


Connector size:1.5"NPT thread




$113.79

Mvalve-11

【2" plastic DC latching valveHunter】
Working voltage:2.4~6V,
Working current:1A
Working pressure:0.14-1.5Mpa, 50 ~ 100ms pulse


Flow range:: 0.06~68.1m3/h


Vavle body:Plastic,


Connector size:2" NPT thread




$149.79

Mvalve-12

【3" plastic DC latching valveHunter】
Working voltage:2.4~6V,
Working current:1A
Working pressure:0.14-1.5Mpa, 50 ~ 100ms pulse


Flow range:: 0.06~68.1m3/h


Vavle body:Plastic,


Connector size:3" NPT thread




$425.50

Battery-01

【NiMH Rechargeable battery 】

7.2V/2300mAh

$5.50

Msensor-02

【Moisture sensor】




$98.00

Vcabel-3.7m

【Valve cable】Extention cable with connectors for magnetic valve, total 3.7meters (Cable:TC0.15*28S/1.6PVC*2core/OD:5.0PVC)

$2.77

VcabelB-5m

【Valve cable】Extention cable with connectors for magnetic valve, total 5 meters (Cable:TC0.15*28S/1.6PVC*2core/OD:5.0PVC)

$3.69

VcabelB-10m

【Valve cable】Extention cable with connectors for magnetic valve, total 10 meters (Cable:TC0.15*28S/1.6PVC*2core/OD:5.0PVC)

$6.44

VcabelB-20m

【Valve cable】Extention cable with connectors for magnetic valve, total 20 meters (Cable:TC0.15*28S/1.6PVC*2core/OD:5.0PVC)

$11.95

VcabelB-30m

【Valve cable】Extention cable with connectors for magnetic valve, total 30 meters (Cable:TC0.15*28S/1.6PVC*2core/OD:5.0PVC)

$17.64

Scable-1-5m

【Sensor cable】Extention cable with connectors for moisture sensor,5 meters (Cable:TC0.15*28S/1.6PVC*3core/OD:5.0PVC)

$4.07

Scable-1-10m

【

Sensor cable

】

Extention cable with connectors for moisture sensor,10 meters (Cable:TC0.15*28S/1.6PVC*3core/OD:5.0PVC)

$7.21

Scable-1-20m

【

Sensor cable

】

Extention cable with connectors for moisture sensor,20 meters (Cable:TC0.15*28S/1.6PVC*3core/OD:5.0PVC)

$13.59

Scable-1-30m

【

Sensor cable

】

Extention cable with connectors for moisture sensor,30 meters (Cable:TC0.15*28S/1.6PVC*3core/OD:5.0PVC)

$19.92

Scable-1-50m

【

Sensor cable

】

Extention cable with connectors for moisture sensor,50 meters (Cable:TC0.15*28S/1.6PVC*3core/OD:5.0PVC)

$32.33

GG-PM-WY-50 1/8"

【 pressure meter】 1/8" NPT thread Range:0~1Mpa Output:4..20MA Accuracy grade:0.2% FS Scope of supply:12/36 VDC

$95.39

GG-PM-WY-50 1/4"

【 pressure meter】 1/4" NPT thread Range:0~1Mpa Output:4..20MA Accuracy grade:0.2% FS Scope of supply:12/36 VDC

$95.39

Antenna-04

【Antenna-915MHZ】1.Frequece range:915MHz2.frequnce bandwidth: 100MHz3.input impedance: 50Ω4.Voltage standing wave ratio: ≤1.55.gain: 2.5dBi6.Power capacity: 50W

$1.78

Ccable

【Coaxial cable】Coaxial cable 3meters plus two connectors (Cable:RG316,3.0mm FEP,7*0.17mm, -55~+200℃)

$4.97

AC Relay Box

Match with all ANC wireless/alone irrigation controllers to control up 24V AC valves.

$73.74