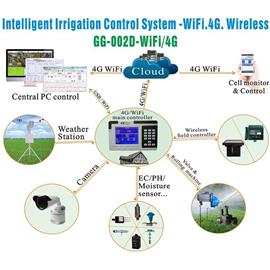 Wireless/WiFi/4G Intelligent Irrigation Control System
2019-04-10
Model: GG-002D-WiFi/4G
Recommended Application: Suitable for greenhouse,orchard,backyard organic,landscape.
Package Weight: 1.3KG
Description: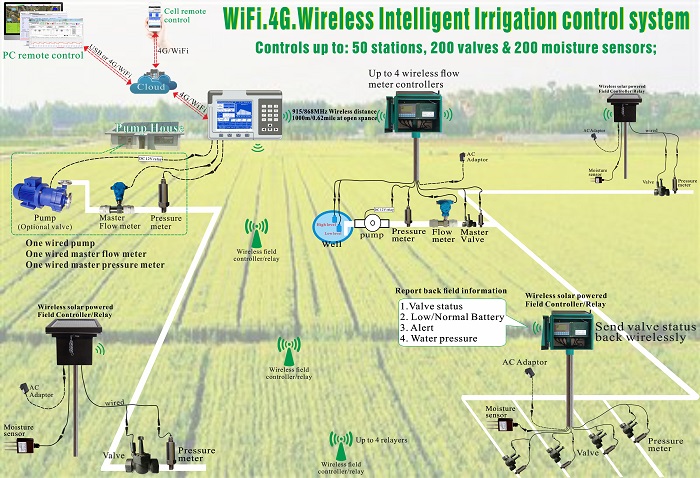 This is an intelligent irrigation control system for big Ag, or big landscape. Main controller uses WIFI/4G to control and monitor the whole system. 915MHz wireless relay network directly controls all the field controllers with no need of WIFI in the field.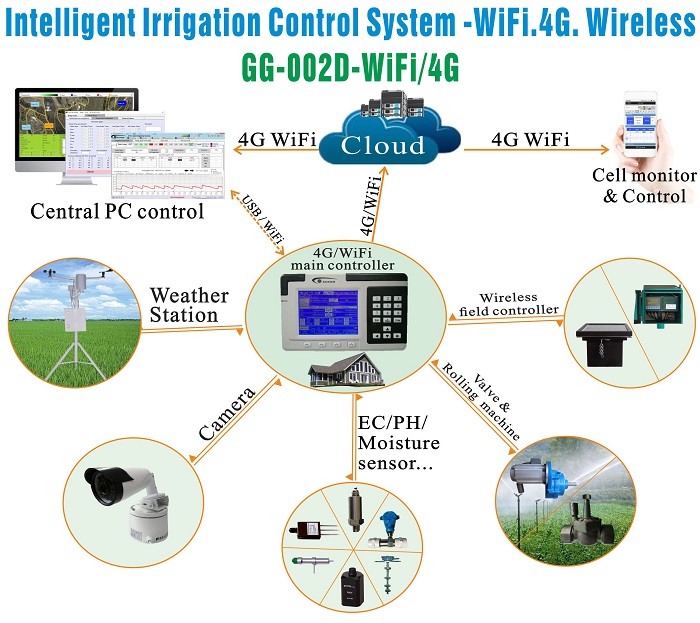 WiFi/4G Main controller control up to:
50 wireless zones, up to 200 valves and 200 moisture sensors
1 wired and 3 wireless pumps
1 wired and 3 wireless flow meters
4 master valves & 4 master pressure meter
1 wired/wireless weather station
Each zone control up to:
4 valves and 8 pressure meters/switches,
1 air temperature sensor,
1 EC sensor and 1 PH sensor,
4 rolling machines,
1 flow meter and 1 level switch
Power supply: Solar powered, Battery powered, AC powered.
Two operation modes: Moisture sensor based auto control mode
Timer with MAX wet limit control mode
Main specification

s

:
1) Power:12V solar power management or 12VDC 2A power supply.
2) Power supply:Out port=12VDC 2A , Import=80~240VAC
3) Back up battery: Ni-MH 2300Ah AA 1.2V*4
4) Idle current:≤100mA
5) Wireless frequency:902MHz-928MHz
6) Wireless power:0.5W
7) Wireless distance: More than ≥500m at open space
8) Application environment:Temperature:-30~60℃ Relative Moisture:<90%
9) Size: 246mm*156mm*47mm
10) Extension cable length:
Ø For moisture sensor and level sensor, up to 50m.
Ø For valve, up to 20m
Ø For pressure switch/meter and Pump: Up to 50m
Ø For flow meter, Up to 5m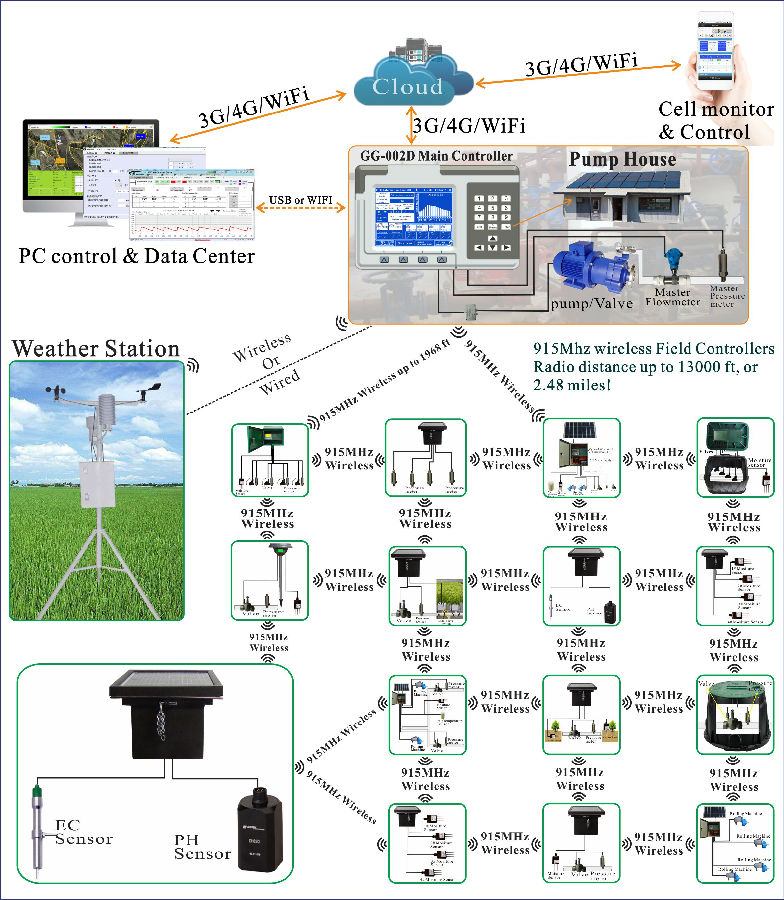 Main Functions:
1. This system has 2 control modes:
1) Moisture sensor based control. Keep soil moisture in the setup range. Will automatically adjust irrigation by season.
2) Reliable Timer with max moisture control. Timer schedules will send to and performed by the field controller for reliability.Will stop irrigation when the maximum wet is reached.
2. System controls up to 50 wireless irrigation zones, or 200 valves.
3. Once setup, system will automatically keep moisture in the desired range to optimize irrigation.

4. All field controllers/relays are solar powered, through local mesh network to communicate with main controller. No need of any power line or communication line.
5. Built-in WIFI or 4G for remote control and monitoring.
6. Pressure meter used to detect leakage or jam of pipes.

7. Supportwired or wirelessweather station.
8. User can choose to install rotating cameras and video cameras accordingly, for monitoring irrigation in real time.
9. Air humidity sensorto control film rolling machine to open/ close greenhouses at real time.
10. EC / PH sensors.
11. Advanced Setting includes: Frost/Heat protection, Rain delay, Password protection, ID setup and Sampling cycle.
12. History files of moisture, irrigation events and alarms etc,.
13.Detailed and accurate SMS alarms as following, more details please check the SMS ALARMfile:
1)If one devise failed wireless communication 10 times continuously.
2)Monitoring power of all wireless devices in the system. Will issue alarm when battery hit low.
3)No or little continuous charging signal has been detected from the solar panel charging circuit.
4)By checking how steep is the discharge speed at night for several cycles.
5)After the valve has been open, delay time past, check the water pressure meter reading.
If the reading is higher than closed status, normal, otherwise alarm.
6)After the valve is closed, delay time is over, if the water pressure meter reading is over reading
of closed status of the valve, then alarm.
7) System will check water pressure every minute during irrigating period. If the reading is less than normal range three times straight,
system will judge as there is possible leaking, protectively turn off the valve. Then you only can cancel the protective
status by field manual operation, or remote operation
8)Notice of zone irrigation at very beginning.
9)There are three kinds of sensors to protect the pump: liquid level sensor, flow sensor and pressure sensor.
During pump starting, if any reading of these three sensors are out of setup range, then turn off pump and alarm.
The pump will not restart until there is field maintain, or remote recover because the reason is not enough water pressure.
10)Moisture sensor chart analysis. See example of following chart. There are lots irrigations which should not happen.
11)a. If reading of moisture sensor reached abnormal 99% multi times continuously, alarm. The moisture sensor is very possible go bad.
b. The reading of moisture sensor is more steep than history chart, alarm.
c. If the reading of moisture sensor has no increase after 3 times of irrigation, then alarm.
12)Flow rate of monitored sensor is out of range. Is turned off.
13)Reading of related pressure meter is out of range
14)If there is no internet connection for main controller over 24 hours, alarm.
15)Remind customer to pay/renew cloud service, start from one month before due time, then once a week.
16)When the soil moisture reading is lower than the Dry threshold over 2 hours, alarm.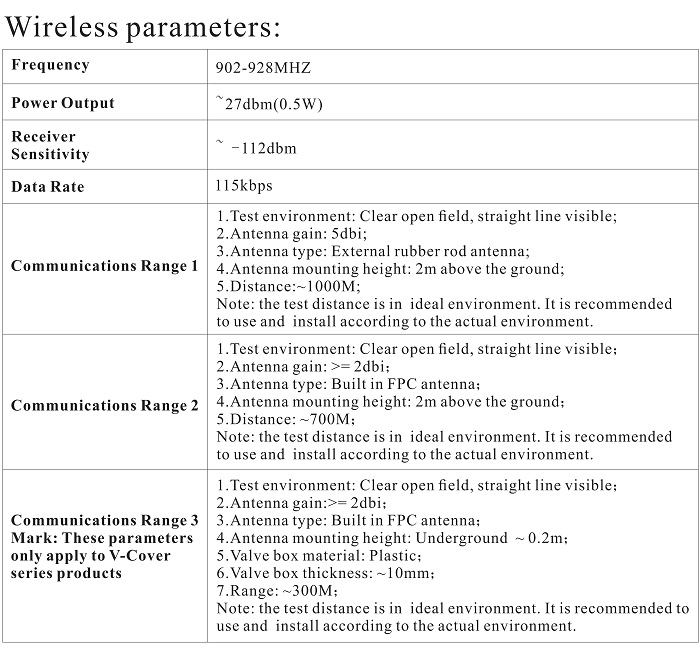 Wireless Field Controllers:
P/N

Picture

Description

GG-002D-E

Main controller Control up to:

50 wireless zones

1 wired and 3 wireless pumps

1 wired and 3 wireless flow meters

4 master valves & 4 master pressure meter

1 wired/wireless weather station

Solar or AC poewered

SpanelC-01

Solar power manage system for outdoor GG-002C/D main controller without AC power available.

Battery: 12V/20Ah, Lead-acid battery.

Solar Panel: 18V/40W; Current,2.22A; Open circuit voltage, 21.6V; Short circuit current, 2.45A.

Solar Control Adapter: 12V/10A.

1MS1V-Solar-2D

Control up to: 1 moisture sensor,


1 latching valve(1"~3") ,

1 presure switch or presure meter

Using standard 10*2300mAh AA Size Ni-MH Battery (Not included) Solar powered;

Connects controller to one outdoor AC Valve Relay Box, then controls 24V AC valves.

4MS-Solar-2D

Control up to: 4 moisture sensors.

Using standard 10*2300mAh AA Size Ni-MH Battery (Not included) Solar powered

MS4V-Solar-MB-2D

Control up to: 4 (1"~3") latching valves

4 pressure switch/meter

1 moisture sensor

Using standard 10*2300mAh AA Size Ni-MH Battery (Not included) Solar powered; Connects controller to one outdoor AC Valve Relay Box, then controls 24V AC valves.

MS4V-Bat-2D

Control up to: 4(1"~3") latching valves

4 pressure switch/meter

1 moisture sensor

Good for indoor. Using standard 4*Alkaline D Size Battery (Not included) powered;

Connects controller to one outdoor AC Valve Relay Box, then controls 24V AC valves.

MS4V-AC-2D

Control up to: 4 (1"~3") latching valves

4 pressure switch/meter

1 moisture sensor

Good for indoor. AC Powered;

Connects controller to one outdoor AC Valve Relay Box, then controls 24V AC valves.

MSV-3-Solar-2D

Control up to: 1 latching valve (1"~3")

1 moisture sensor

1 pressure swtich/meter

Using 12V/2300mAh Ni-MH Battery (Included), Solar powered;

Connects controller to one outdoor AC Valve Relay Box, then controls 24V AC valves.

2MS1V-Solar-2D

Control up to: 2 moisture sensors

1 latching valve (1"~3")

1 presure switch/meter

Using standard 10*2300mAh AA Size Ni-MH Battery (Not included) Solar powered;

Connects controller to one outdoor AC Valve Relay Box, then controls 24V AC valves.

Wireless Relay

Solar powered;

Function as repeater only, match with GG-002D main controller.

1MS1V-Cover-2D

Controlls up to: 1 latching valve (1"~3")

1 moisture sensor

1 pressure switch/meters

Using standard 2300mAh AA Size Ni-MH Battery (Not included). Solar powered; Or Li-ion battery(Not inculded) powered.

Connects controller to one outdoor AC Valve Relay Box, then controls 24V AC valves.

MS4V-Cover-Solar-2D

Controlls up to: 4 latching valve (1"~3")

1 moisture sensor

4 pressure switch/meters

Using standard 2300mAh AA Size Ni-MH Battery (Not included). Solar powered;

Connects controller to one outdoor AC Valve Relay Box, then controls 24V AC valves.

1MS1T2V2R-2D

Control up to: 2 screen rolling machines

2 latching valves (1~3")

1 soil moisture sensor

1 air temperature sensor

Solar Powered with SpanelC-01(Solar supply control system), or powered by

Wireless Relay

Remote control;

No contact wireless firmware updatefor all field controllers

Antenna-01

Connector way:SMA


Standing wave ratio :≤1.8;

Gain:5dBi;

Frenqucy:2400~2483 MHz

$3.56

Antenna-02

Connector way: SMA

Standing wave ratio≤2.0;

Gain:3dBi;

Frenqucy:824-896/1850-1990MHz

$5.35

Ccable

Coaxial cable 1.5 meters plus two connectors.

Cable:RG316, 3.0mm

$4.18

Dcable

Device USB cable, length :1 meter.

$7.12