Outdoor solar powered moisture sensor based controller
2019-05-15
Model: GG-001D
Recommended Application: Suitable for irrigation in farmland, backyard vegatables, home gardens and greenhouse.
Package size: 40cm*30cm*20cm
Package Weight: 4KG

Click here

to download installation video.
Description:
This controller controls irrigation based on real time moisture samples, which are the final results of all weather and plant water absorption conditions. Keeps the soil moisture in the set range to optimize irrigation and plants growth. User sets Dry/Wet control moisture levels according to experience or calibrated measurements, then the controller will auto open valve at Dry level and auto close valve at Wet level to keep the soil moisture constantly in the ideal range. The Dry/Wet control levels are adjustable. The valve included is a 1-Inch magnetic latching valve, optionally up to 3-Inch magnetic latching valves. The screen shows Dry, Current and Wet control levels one by one. And valve status. The controller is solar powered, features low power consumption design which can operate greater than 15 days during cloudy days, also can be used inside the greenhouse. User sets and adjusts forbidden irrigation time, so no irrigation during 9:00am to 5:00pm for convenience. Great for garden and small green house auto irrigation. Can install with any existing or new, drip or sprinkler irrigation system, it replaces the existing valve with a low power latching valve.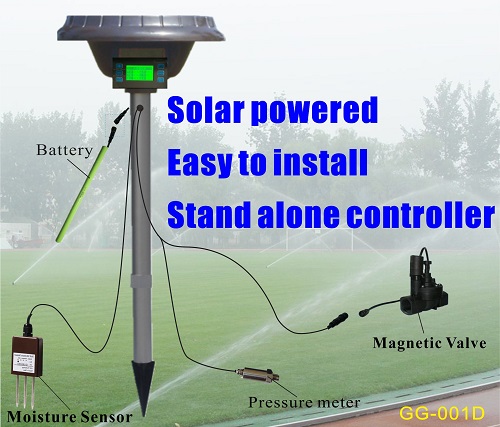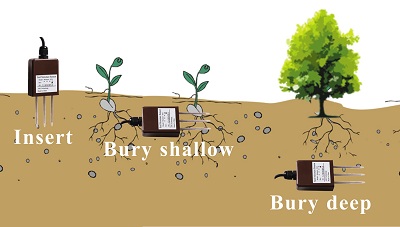 Model

Picture

Standard package

Add to Cart

GG-001D-E

Moisture sensor(1)

Solar controller(1)

1" Plastic latching valve(1)

12V/2300mAh(1)

$296.62




Features:
1. Moisture sensor based irrigation to optimize irrigation and plants growth.
2. Two control modes for choice: Moisture sensor based control and timer control.
3. Two timer control modes: timer mode 1, Users can set the interval time of irrigation and irrigation cycle two groups of time to control irrigation; timer mode 2, users can set seven days, three groups of different timing irrigation time every day.
4. Under moisture mode, the max irrigation time limit can be set to prevent unexpected watering.
5. Solar powered for environment protection, convenience and save installation and maintenance money
6. Control latching valve up to 3-Inch
7. Build in clock for setup Non irrigation period for convenience.
8. User can install pressure meter/switch after valve to check the valve open/close.
Moisture sensor(1) +Solar controller(1)+ 1" Plastic latching valve(1)+12V, 2300mAh(1)

Appication: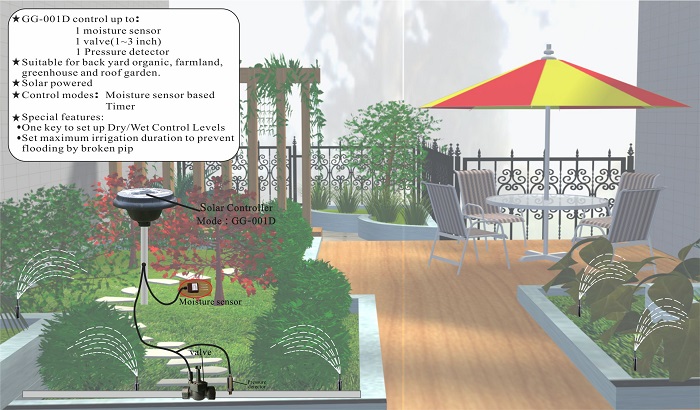 Accessories:
P/N

Picture

Description

Price

Mvalve-01




【1" Plastic DC latching valve Yaofeng】

Working voltage:6~40V;

Working pressure: 0.05~0.6Mpa,

Flow range: 3.8~113.6 L/min;

Connector size:1" NPT thread;

$15.43

Mvalve-09

【1" plastic DC latching valve Hunter】

Working voltage:9-20V

Working pressure:1.5~15.0bar, 150 ~ 1000kPa

Flow range: 0.06~9m3/h

Connector size:1" NPT thread

$50.11

Mvalve-10

【1.5" plastic DC latching valve Hunter】

Working voltage:9-20V

Working pressure:1.5~15.0bar; 150 ~ 1000kPa

Flow range:: 4~34m3/h

Connector size:1.5"NPT thread

$113.79

Mvalve-11

【2" plastic DC latching valve Hunter】

Working voltage:9-20V

Working pressure:1.5~15.0bar, 150 ~ 1000kPa

Flow range: 9~45 m3/h

Connector size:2" NPT thread

$149.79

Mvalve-12

【3" plastic DC latching valve Hunter】

Working voltage:9-20V

Working pressure:1.5~15.0bar, 150 ~ 1000kPa

Flow range: 34~68 m3/h

Connector size:3" NPT thread

$425.50

Battery-01

【NiMH Rechargeable battery 】

7.2V, 2300mAh

$16.2

Msensor-02

【Moisture sensor】




$98.00

AC Relay Box

Match with all ANC wireless/alone irrigation

controllers to control up 24V AC valves.

$73.74

VcabelB-5m

Extention cable with connectors for magnetic valve, total 5 meters

Cable: 2core

$3.69

VcabelB-10m

Extention cable with connectors for magnetic valve, total 10 meters

Cable: 2core

$6.44

VcabelB-20m

Extention cable with connectors for magnetic valve, total 20 meters

Cable: 2core

$11.95

Scable-1-5m

Extention cable with connectors for moisture sensor,5 meters

Cable: 3core

$4.07

Scable-1-10m

Extention cable with connectors for moisture sensor,10 meters

Cable: 3core

$7.21

Scable-1-20m

Extention cable with connectors for moisture sensor,20 meters

Cable: 3core

$13.59

Scable-1-30m

Extention cable with connectors for moisture sensor,30 meters

Cable: 3core

$19.92

Scable-1-50m

Extention cable with connectors for moisture sensor,50 meters

Cable: 3core

$32.33