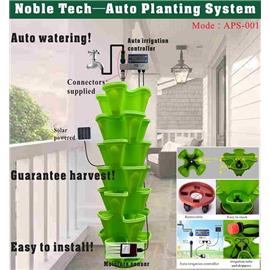 Auto Planting System
2021-07-15
Model: APS-001
Price: $169
Recommended Application: For family balcony or garden .
Package Weight: 15KG
Size:45*45*45CM

Click here

to watch installation video.
‍‍Price:$169.00 Shipping Free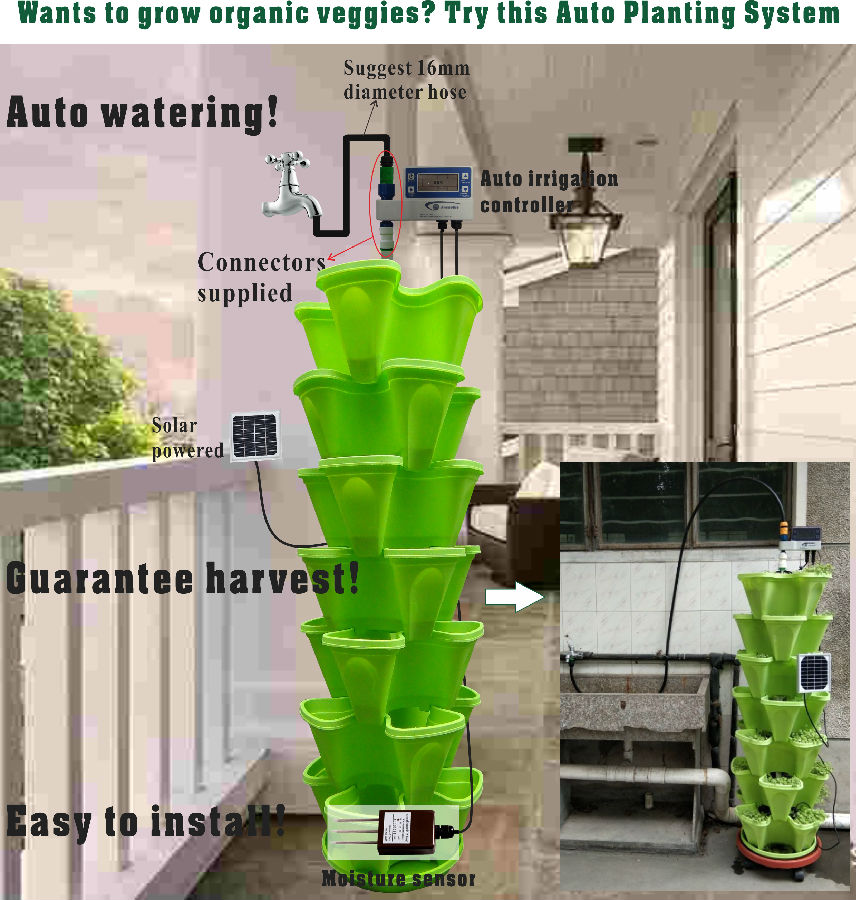 Description:
1. System include: 7 Planting pots; Moisture sensor-based auto irrigation controller; Assembled watering tube and drip; Removable bottom.
2. Size of package: 1150px*1150px*1150px
3. Installed Height: 4125px
4. Size of each pot: 45CM diameter and 20CM height
5. Very easy to install, put pots one over another. Pots are fastened layer by layer, stable.
6. The drainage pipe at the bottom can drain excess water to avoid overflow.
7. Auto irrigation controller is moisture sensor based: Built in 3/4" valve, both end connectors are supplied. Out port is G thread 3/4"quick connector coupler, suggest use 16mm diameter hose to connect to water tap. Powered by solar panel with 4x AA rechargeable battery, or 4x AA alkaline battery, or ac adapter; Including both "Moisture Control" and "Timer Control" modes.
8. The water pipe passes through middle of the planting system, and each layer is equipped with drippers. Connect water pipe to the controller. Place sensor in bottom pot to detect the soil moisture. Setup Dry/Wet threshold on controller, opens the valve to watering when the Dry threshold is reached, and stops watering when the Wet threshold is reached. Keep soil moisture in desired range to guarantee harvest.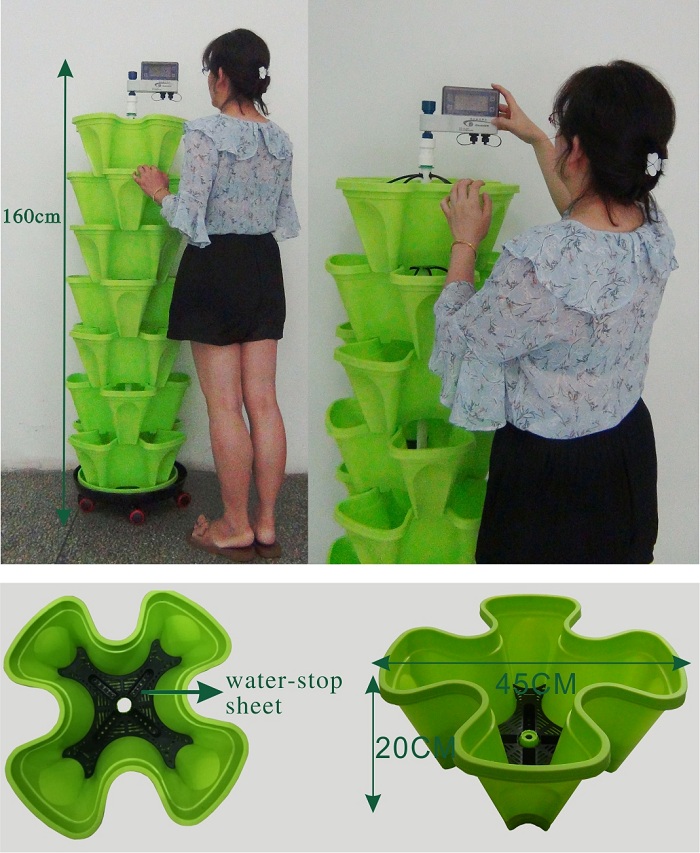 Standard package includes:
1. 7 planting pots.
2. Moisture sensor-based, solar powered auto controller(4*AA rechargeable battery not included)
3. Removable bottom with wheels.
4. Installed irrigation tube and heads.
5. Drain tube at bottom bowl to prevent overflow.
6. Two connectors for connecting controller and water source.