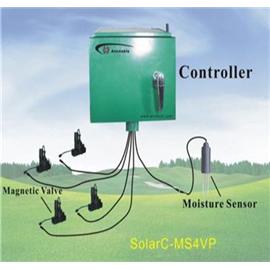 Field Controller
2015-08-04
Model: Solar-C-MS4VP
Price: $
Standard package: 1" Plastic latching valve(1); Solar controller with steel box(1); Moisture sensor(1); 12V, 2300mAh battery(1)
Product introduction
Function:
Model
Picture
Standard package
Description

Solar-C-MS4VP

1" Plastic latching valve(1);
Solar controller with steel box(1);
Moisture sensor(1);
12V, 2300mAh battery(1)

Control up to 4 valves and 1 moisture sensor, solar powered.
Suggested maximum maganetic valve extention cable is 20 meters.
Suggested maximum moisture sensor extention cable is 50 meters except moisture sensor for GG-005 series.