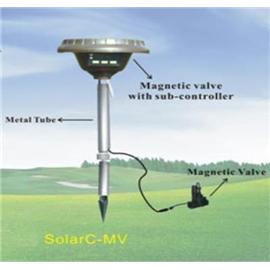 Solenoid valve controller
2015-08-04
Model: Solar-C-MV
Price: $
Standard package: Solar controller(1); 1" Plastic latching valve(1); 7.2V, 800mAh(1)
Product introduction
Wireless Irrigation Zone Subsystem for GG-002B (Solar-C-MV) US Patent is Pending. Chinese Innovation Patented.
If you plan to install irrigation system, our controller is the best.
Ours Irrigates according to the Dry/Wet soil moisture levels, saves
water to reduce cost and protect environment, a smart timer can't do that.
Function:
lSuit for ANC intelligent irrigation system GG-002B, GG-003A.
Model
Picture
Standard package
Description

Solar-C-MV

Solar controller(1);

1" Plastic latching valve(1);

7.2V, 800mAh(1)

Wireless valve controller, control up to one valve, solar powered.



Suggested maximum maganetic valve extention cable is 20 meters.